The 22. Science Picnic - Movement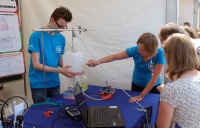 The IPC took part in the 22nd Science Picnic of the Polish Radio and Copernicus Science Centre.The Picnic is Europe's largest outdoor event aimed to promote science. Every year, it attracts crowds of visitors to Warsaw. Scientific institutions, universities, research institutes, museums, cultural institutions, and foundations related to science and science clubs present their achievements and reveal the behind-the-scenes aspects of their everyday work. They comprehensibly present science to audiences of various ages, with the aid of experiments, demonstrations and interactive exhibits. The theme of the 22 Science Picnic was Movement.
The Institute presented several experiments connected to the main theme and to research conducted by our research group - The Physical Optics& Biophotonics Group. POB presented effects that can be obtained by using ultra fast camera and several optic experiments. The IPC presented also Newton's and Bencham's disk as related to both optic and movement as well as demonstrations related to electrochemistry and reaction kinetics. As the Picnic is usually visited by the audiences of all ages our stand was intended for both children and adults representing different levels of chemical knowledge. The evaluation conducted by the organizers during the Picnic considered our stand as interesting and well-organized
More information about the event .